A Legacy Of Innovation, Expertise & Entrepreneurs
What begins as a grandfather's need to scent his restaurant turns into an entrepreneurial legacy of expertise and invention in the industrial and institutional air freshener market. But the "perfect fragrance partner" can't be found. Two grandsons later, AromaTech is born with the idea to vertically integrate the supply chain, and to improve and produce the company's own fragrances.
Creativity, Consistency & Immediate Delivery
The founding partners work tirelessly to build a fragrance company that they dream of working with, a company with a mission: creativity, consistency and immediate delivery. AromaTech promises unmatched partnership to clients, and produces and delivers high quality fragrances in 72 hours…besting the major fragrance companies by 3-6 weeks. Clients are stunned and the company doubles in size each year!
PhD scientists join the team and a break-through in patented water-based technology takes the industry by storm.
Production begins on products made 100% by a fragrance house, providing a much-need resolution to customers confronting challenges of new V.O.C. and Carb regulations.
Be Where We Can Be The Right Partner
The mission continues to build the fragrance company that "everyone dreams of"…and to share those advantages with the right partners. The "72 Hour Express" delivers made-to order fragrances to delighted clients. The company parlays its expertise in I&I into true air care for the home.
New technology, cold gel fragrances, brings innovation to clients, driving market share and consumer experience.
A merger with Atlanta-based International Fragrance Technologies brings new partners with value and logistics benefits.
Creative Center Of Excellence
Service, creativity and quality are the cornerstones of growth as the team expands in size and expertise. The Creative Center of Excellence is launched adding new team members including PhDs, Fragrance Evaluators and Marketing Experts. Personal care specialists and fact-based market data propel the company into the body care category providing clients new areas of opportunity and know-how.
Innovative "MakeScents" proprietary software is built to make fast even fastest, and the software is installed throughout the manufacturing floor. Speed-to-market is an unbeatable value-added.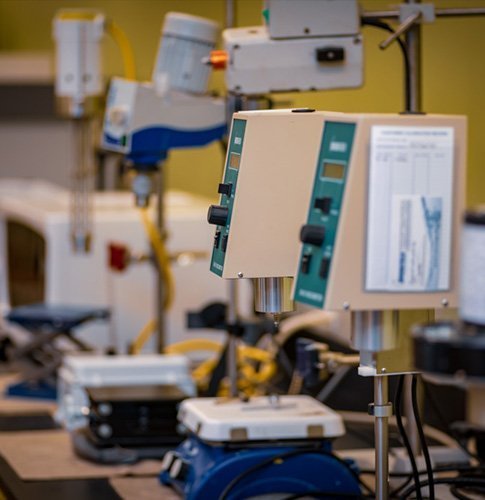 More Partners, More Possibilities
The company's network continues to grow as new partners join the team. Manufacturing and production continue to be a relentless pursuit. The goal: give clients their products quickly, efficiently and hassle-free…all while delivering beautiful, high-quality fragrances.
Agilex begins production with new partner in China, shipping high-quality, proprietary ingredients directly to the overseas manufacturing floor. Agilex provides clients with the advantages of global production and cost efficiencies for custom fragrances …all while guaranteeing consistent production quality.
The "Shopping Cart Method" and Portable Scales allow the team to bring the oil directly to production tanks. Reducing steps dramatically increases turn-around time.
AromaTech and IFT become fully integrated. Agilex Fragrances is born and renamed based on the founding principles of agility and excellence.
Continuous improvements at the 30,000 square foot Branchburg Manufacturing Plant include On-Demand Production Stations that increase the pours-per-day count to the highest in the industry!
Faster Becomes Fastest
Continuous improvement and automation bring unparalleled speed to Agilex's manufacturing.  A state-of-the art production facility is christened on May 1, 2017 in Somerset, New Jersey. Features include engineering robots, flexible processes, interconnected, intelligent software, and 24/7 shift capacity.
With streamlined workflow processes, the production line is now one of, if not the fastest in the industry, giving customers the extra advantage of speed-to-market.
New laboratories for QC and Samples help deliver on the Agilex standard to manufacture beautiful fragrances with zero defects.
In June 2017, Agilex becomes a part of The Firmenich Group while operating as a complete stand-alone company.
Agilex Fragrances is recognized for its impressive track record in designing creative fragrances, as well as its industry-leading supply chain with unprecedented speed-to-market – a winning blueprint to serve mid-sized businesses. With new levels of creative resources and ingredients, Agilex provides best-in-class value-added capabilities to clients.
Agilex identifies opportunities coming from the U.S. West Coast – a unique ecosystem with thriving start-ups that drive technology and natural lifestyle trends. In June 2018, Agilex acquires Fragrances West, a leading body, home and air care perfumery house with a synergistic full-service approach. Agilex continues to offer superior creative scent design and best-in-class speed-to-market now supported by a manufacturing facility in Los Angeles. The acquisition advances Agilex's vision as leaders in custom fragrance and innovation for the small to mid-size market.
The future is here.